The Sugar Industry of Puerto Rico

La industria del azúcar en Puerto Rico
by Emilia Badillo Joy
(c) CopyRight - Prohibido copiar, reproducir



| | | |
| --- | --- | --- |
| | | Trapiche primitivo. |

ugar cane was brought to the New World from the Canary Islands by Christopher Columbus, and introduced into the island of Puerto Rico from Santo Domingo, in 1515, to be cultivated on the banks of the Toa river at the Crown's experimental farm.

The first grinding mill was established in Añasco, by Tomás de Castellón in 1523 and was operated with oxen. From 1548 hundreds of mills operated by water power (norias) making moscabado sugar began operations. The industry was in the hands of small landowners whose enterprises succeeded or failed depending on the price of sugar in the market or the whims of the Spanish Crown.

The first "Centrales" or factories with equipment operated by steam were established from 1873 to 1876 - whereby the sugar crystals got separated from the molasses in centrifuges. The machinery was purchased in England or France. The outmoded smaller mills (trapiches) vanished after the end of slavery in 1873.
| | | |
| --- | --- | --- |
| First factory to modernized by expanding its land holdings was San Vicente (Leonardo Igaravides in Vega Baja) and was soon followed by Coloso (Emilio Vadi in Aguada), and Luisa (Maunabo), San Felipe (Naguabo), San Luis (Carolina), and Josefina (Río Piedras). | | Ruinas de la central San Vicente; 1984. |
At the 1882 Exposition in Ponce, two owners received gold and honorary medals for the high quality sugar obtained with the new process: these were Vadi and the Cabrera Brothers from the Boca Chica hacienda close to Ponce. But in 1882 there were still only five or six centrales working in the island of Puerto Rico.

| | | | |
| --- | --- | --- | --- |
| | | | |
| Central Coloso, Aguada, en ruinas. | | | Central San Vicente; 1960. |
After sovereignty was transferred to the US in 1898, the industry grew with the impetus of the sugar interests from the mainland. From then until the Spring of 2000, when Coloso closed after its last harvest, sugar cane was the most important cash crop of the island of Puerto Rico. The industry struggled through the XX century with market price competition, a diminishing and expensive labor force, the cost of transportation, the sugar quota system and the need to fertilize and irrigate the land, so harsh that eventually became bankrupt. In 1936 there were approximately 43 centrales operating under a sugar quota of 909,445 short tons (2,000 lbs or net ton) This had been established by the Jones-Costigan Act, which allowed Puerto Rico to ship the raw product to the USA without payment of duty.

| | |
| --- | --- |
| | |
| Central Coloso. | |
Thirty four centrales ceased operations between 1942 and 1977. The largest survived for another decade: Cambalache (Arecibo) and Guánica (Ensenada) closed in 1981 to be followed by Aguirre (Salinas) in 1990, Mercedita in 1994, La Plata (San Sebastián) 1996, and finally Coloso and Roig (Yabucoa) in 2000. An industry and a way of life came to an end. The "colonos" or farmers who planted the crops and sent it to the factory to be processed, hardly ever saw their efforts compensated at the time their sugar was sold. The growing period for the crop usually took fourteen months or more, from planting during the last four months of the year until grinding began following January. It was necessary to replant every four years or so. Most raw sugar was shipped to refineries in the East Coast but by the second half of the century Guánica, Mercedita, Igualdad, Roig and San Francisco had acquired refining machinery. The workers abandoned the island after WWII for full time jobs and better wages elsewhere and the colonos abandoned the sugar industry.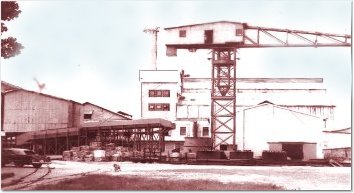 Central San Vicente siendo desmantelada.
José R. Abad writing in 1882 foresaw the end when he observed that the owners had insisted in expanding (investment of capital) by acquiring more powerful machinery and lands, absorbing every small agricultural plot and therefore eliminating other forms of agriculture, and eventually redistributing the riches of the land to the detriment of the island's social well being. Looking back, we could say that changes were to come with the whims of a more modern century and rethinking of the choices made under another set of circumstances.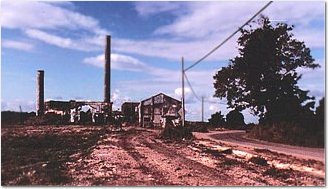 Ruinas de lo que fue la Central San Vicente.
| | | | |
| --- | --- | --- | --- |
| | Centrales in operation in 1940, location (closest town) and date they closed down: Playa Grande in Vieques (1942); Carmen in Vega Alta (1945); Caribe in Salinas (1946); Boca Chica in Juana Díaz (1946); Herminia in Villalba (1947); Santa Barbara in Jayuya (1948); Pellejas in Adjuntas (1949); San Joseé in Río Piedras (1952); Constancia in Ponce (1954); Rochelaise in Mayagüez (1957); Victoria in Carolina (1957); Pasto Viejo in Humacao (1958), Ejemplo in Humacao (1961); Constancia in Toa Baja (1962); Guamaní in Guayama (1963); Juanita in Bayamón (1963); Plazuela in Barceloneta (1963). | | |
Canóvanas in Loíza (1965); Santa Juana in Caguas (1966); Cayey in Cayey (1967); Machete in Guayama (1967); Rufina in Guayanilla (1967); San Vicente in Vega Baja (1967); Soller in Camuy (1968); Río LLano in Camuy (1970); Lafayette in Arroyo (1971); Los Caños in Arecibo (1972); Monserate in Manatí (1972); Juncos in Juncos (1973); Cortada in Santa Isabel (1974); Eureka in Hormigueros (1977); Fajardo in Fajardo (1977); Igualdad in Añasco (1977); and San Francisco in Guayanilla (1977).

FUENTES:
1. Manual of Sugar Companies. Farr & Co, New York, 1937.
2. Gaztambide y Arán. La Isla de Puerto Rico. Rand MacNally y Co., 1941.
3. Hernández Méndez, Eugenio. Crónicas de Puerto Rico: desde la conquista hasta nuestros días 1493-1955. Editorial de la Universidad de Puerto Rico, 1969.